Metal Logos & More, the leader in metal signs, blends technology and craftsmanship to create metal custom business signs, corporate signs, ADA signs, wall signs and just about any signage product for a variety of businesses. From custom logos to metal fabricated architectural and environmental graphics,
Metal Logos creates interior signs and exterior signs for a wide variety of industries.  Do you want to buy office signage but do not really know where to start to look and do not want to buy the wrong business sign and end up making a costly mistake?
Do you want a custom metal or plastic office sign but do not want to pay for the custom cost of getting office signage that you do not want and forced to settle for something "standard" for your business signs?
Then you have come to the right place!! Metal Logos and More offers custom signs—wall signs, business signs, corporate signs, metal signs, plastic signs and more ….. all at standard prices.
You see, after over 39 years in the metal sign business, we have accumulated nearly every office sign typestyle and font there is for your business signs or corporate signs—if not, we will buy it at no cost to you or create it from your custom logo! We take your custom artwork and come up with several different ways to manufacture your corporate sign to create business signage in different materials giving you several price options with the same custom image for your business and corporate signage.
After all, the object of all our team here at Metal Logos is to create metal signage to enhance our clients' businesses image in the most effective way by supplying them with custom business signage they can be extremely proud of.
What if you do not know exactly what materials you want your custom sign to be?
Since making office signs is probably not your area of business expertise, how do you know if you want to order a business sign out of aluminum, or a business sign of stainless steel, or a brass metal sign, or a bronze metal sign, or a corporate sign made from electroplated metals, or a copper metal sign, or a painted acrylic office sign, or a PVC business sign , or even vinyl signage?
Once you contact Metal Logos for corporate signage, you will be contacted shortly by a designer who is trained to talk with customers and offer them the very best of business signs to go in their offices. Your custom office sign designer can talk to you about what exact custom image you want to display in your business signs.
After that, our designers will discuss with you our various business sign material choices from various metals, acrylics, and plastics and explain our manufacturing processes to get you started on the right path for your business signs. Many times, we combine various metals and metal-looking acrylics or plastics to give you the best interior or exterior metal signage. Then, our quote department will give you bids for your business signs and office signs using some options that best fits your company's corporate signage needs. After you receive your business sign quote, you and our design staff can again discuss the options for metal signs or acrylic signs to make sure that you are getting exactly what you want for your custom office signage.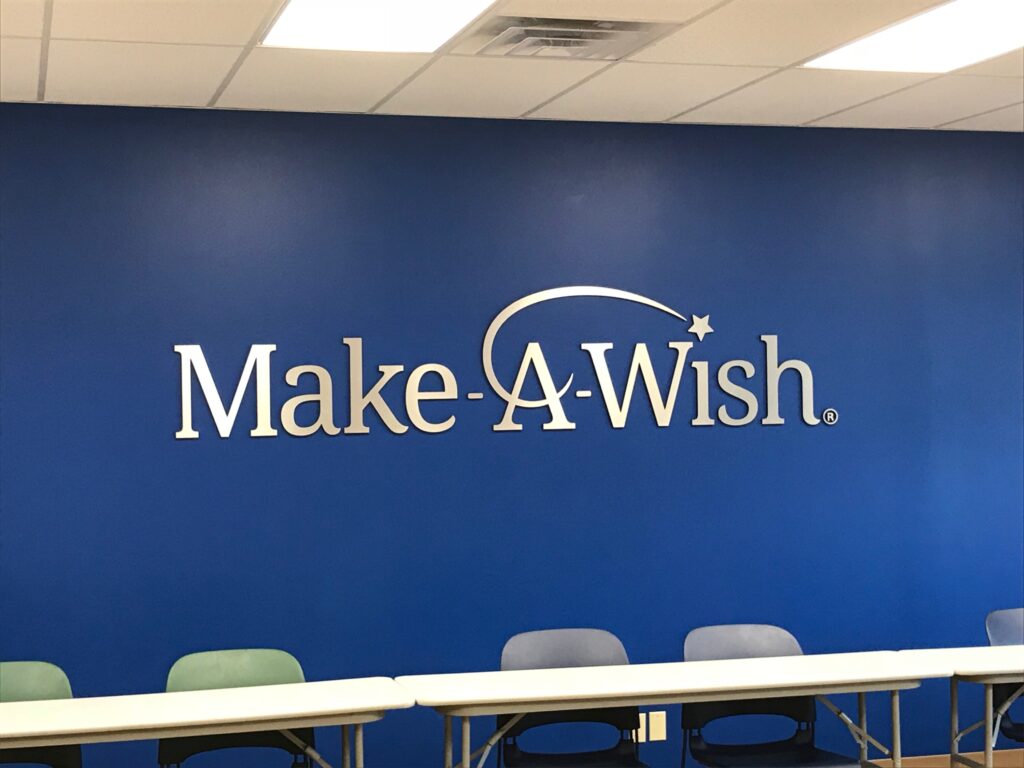 What methods of manufacturing do we use to fabricate our various types of signage?
At Metal Logos, the national leader in corporate business signs and office signs, we blend modern technology and hand craftsmanship to create custom corporate signage, office signage, ADA signs, Donor Wall signage, Memorial Walls and Honor Wall signs, plus architectural signs for interior signage and exterior signage for every industry.
Even though we use the highest state-of-the art modern equipment to manufacture our metal signs and acrylic office signs and corporate signage such as computerized routers, lasers, water jet and plotters, it is still the creativity and finest craftsmanship from our dedicated Metal Logos team that provides the highest quality office and business signage found worldwide. Every person in our metal sign company from the designers and sales team to the office staff and shop personal is committed to producing the highest quality business signs and office signage possible for our customers' unmistakable custom signs without the custom cost.
What materials do we use to manufacture our custom business signs?
At Metal Logos you will find that whatever your office sign needs, whatever your corporate sign budget, we are confident that you will receive the highest quality metal and acrylic signage product possible. Since our customers buy direct from the manufacturer — us — we at Metal Logos can offer our business signage and corporate signs at the highest quality custom business signs at the lowest cost.
For our metal signs, Metal Logos uses SOLID METALS to make our aluminum signs, our bronze signs, copper signs, stainless steel signs, and corten (rusted) steel signs. These solid metals can be finished for our interior business metal signs and exterior business signs using special tools for brushing and applying special custom finishes such as swirling, or rusting. Solid aluminum custom lettering and custom metal logos can be finished with a clear coating which will last years or painted with our customer's custom pms enamel paints, powder coated, or electroplated. An additional custom finish is to have your custom lettering/logo metal sign anodized for a long-lasting exterior sign impervious to the elements.
Fabricated or soldered custom metal signs are used when again, a high end look is required to represent a customer's highest image for their metal signage —- without the high cost you may think. For making corporate business signs, using this method, thin sheets of metal are cut from a choice of beautifully finished metals for Brass signage, Stainless Steel signage, Bronze signs , and Copper signs. After the custom or standard image is cut from the thin metal, strips of the same metal are soldered or welded to the faces creating a thick, hollow letter for beautiful metal signs with seams virtually impossible to detect. Or sometime, we like to make a metal sign with a satin face but polished returns (or edges). If the metal sign is hung in the correct lighting with overhead beams shining down on the metal signage, a reflection or "glow" is cast upon the wall creating an aura of superiority. In addition to sometimes being more cost effective than the Solid Metals (because less over-all metal is used in the creation of these corporate business signs), we are able to make custom lettering/logos ranging in depth from 1/4″ up to 4″. Because these custom metal signs are hollow, they are lighter weight than the solid metals. This innovative technology enables every company from a 1 or 2 man staff up to large corporations able to afford a beautiful metal sign for their company's image.
This manufacturing technique for metal signs also provides us with a brass-look for exterior signs is guaranteed for 7 years not to tarnish or turn color if used for outdoors metal signs. A brass titanium coating is sprayed over a layer of stainless steel for a top notch exterior office business sign.
Metal Logos also uses these same metals in very thin sheeting which we laminate to various backers for our "Faux Metal" look business signs. This are used to give the look and feel of metal signage without the cost or weight. You can choose from a nearly endless array of custom finished thin metal laminate which we glue to backers for thickness.
The backers we use for our "Faux Metal" custom metal signs are:
ACRYLIC BACKERS which are laminated to the real metal face and can be painted with metallic paints to match the custom lettering/logo face's real metal face to make our metal signs. OR, to make our metal signs, the acrylic can be left black which helps add a look of depth to the custom metal signage. The depths of the acrylics generally range from 1/8″ to 1″.
Again, the nearly endless custom finished thin metal laminates can be applied to a PVC BACKER which is similar to acrylic but has a slightly more porous make-up. Therefore, we generally leave it black which again, adds depth to the look especially on a white or very light wall.
An alternative for painted solid metal is ACRYLIC or PVC. With over 39 years in the metal custom sign business and with today's economy we understand the need for price options for your company business signs—without sacrificing quality. For painted office signs, for both interior and exterior signage, we often suggest the use of solid PVC or ACRYLIC.
Our paints are specifically designed to be used with these products to manufacture creative business signs and will furnish many years of use without peeling, fading, or discoloring to the office signs–OR-for your custom metal corporate signs you can be really creative and turn the clear acrylic custom sign pieces over and have only the backs and sides painted—this leaves a high-tech extremely glossy face to your acrylic office logo.
A new and exciting material used to create custom metal business and office signs is sign foam. We like to offer sign foam signage when a customer is looking for a business sign that has depth and is still light weight. It provides us with a more economical business sign and offers depth that other plastic or acrylic signs do not have. Sign foam comes in depths ranging from 1" to 6" and if more is required, several layers can be glued together to build up to the desired depth to make creative custom business signs. Sign foam can be carved and sculpted for very special custom office/building signage and then painted any color or colors.
No matter what type of metal signage, acrylic signage, or plastic signage, we guarantee that YOU WILL LOVE YOUR SIGNS. We have hundreds of testimonials about their office signs from customers that have bought their business signs from us over the 36 years we have been in business:
Let us build a business sign, corporate sign, monument sign or just about any custom metal sign for you!