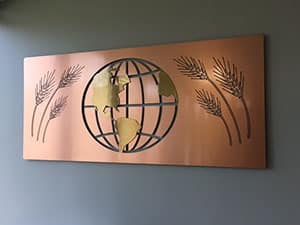 Metal Custom Business signs
make a lasting first impression. Whether outdoor signs announcing the location of your business or indoor signs welcoming guests to your lobby or reception area, first impressions are everything; so custom metal signs that make an impression are your first choice.
Envision your logo, your lettering, your symbol in elegant metal; envision your customers, clients and visitors forming their first impression of the quality and stability metal affords.
Types of customer metal business signs for our customers
Metal Logos and Fabricated metal lettering for lobbies and reception desks
Metal Logos and custom lettering for outdoor entrances
Exterior Custom Signs and monuments
Office specialty business signs
Metal Signs and Custom Directories for lobbies
Metal Plaques
Metal and Custom Door signs
ADA signs (restrooms for the disabled, signage for the sight-impaired; we know and understand the government guidelines)
The list is endless. See our Gallery for photos of the thousands of different custom business signs satisfied customers have had custom-created.
You've seen gorgeous custom metal signs gracing larger firms, and may think they are out of the reach of your firm. In reality, you have five different manufacturing techniques that give you price options without sacrificing sophistication.
First, consider the metal you prefer:
Custom Metal Signs
Aluminum Signs
Bronze Signs
Copper Signs
Stainless Steel Signs
Corten (a rusted-steel look)
Here are the five manufacturing options to fit your budget.
Fabricated or soldered business signs are designed to impress. Here's how it is fabricated for you: thin strips of metal are layered, soldered and welded together. The result is a light metal sign that looks rich and substantial. Even outdoor fabricated and soldered signs have long life. For example, brass is treated to resist tarnish or color change for seven years.
Solid metal Signs is your Cadillac option.
The metal is cut to exact specifications, custom-finished for interior or exterior use. A clear coat, paint, electroplating or anodizing is utilized to ensure beauty and brawn. Fabulous, fiscally conservative business signs use metal with a select backing of either acrylic or PVC. Thin, genuine metal sheets are cut to design then laminated onto the front of your sign. Because it is still real metal, you get the same look and feel at a fraction of the weight. These manufacturing styles provide the pricing options you need without sacrificing magnificence.
Acrylic also bonds exceptionally well with metallic paint, enabling a truly affordable option for metal business signs.
With clear acrylic, you also have the option of having the paint applied to the back, leaving the facing glossy. Paint is a preference when your logo or décor call for colors. Foam is the latest innovation in material. The foam gives exceptional depth to your sign, and is even more economical that plastic or acrylic. Another plus: sign foam can be carved and sculpted for any logo and lettering as well as painted any color.
Hand crafted and home grown
Your custom metal business sign will be cut and assembled by professional craftspeople who take pride in their hand-made products. You are doing business with a home-grown Midwestern company with thirty-nine years of experience.